There's nothing more joyful than an expectant couple anticipating a problem-free pregnancy, easy birth, and healthy, bouncing baby. But 6 to 8% of patients suffer from maternal illnesses that can cause a high-risk pregnancy.
Patients with high-risk pregnancies require a healthcare provider like Dr. Rad, a maternal-fetal medicine specialist – also known as a perinatologist. With special medical training in high-risk pregnancies, Dr. Rad helps minimize complications and make healthy pregnancies possible.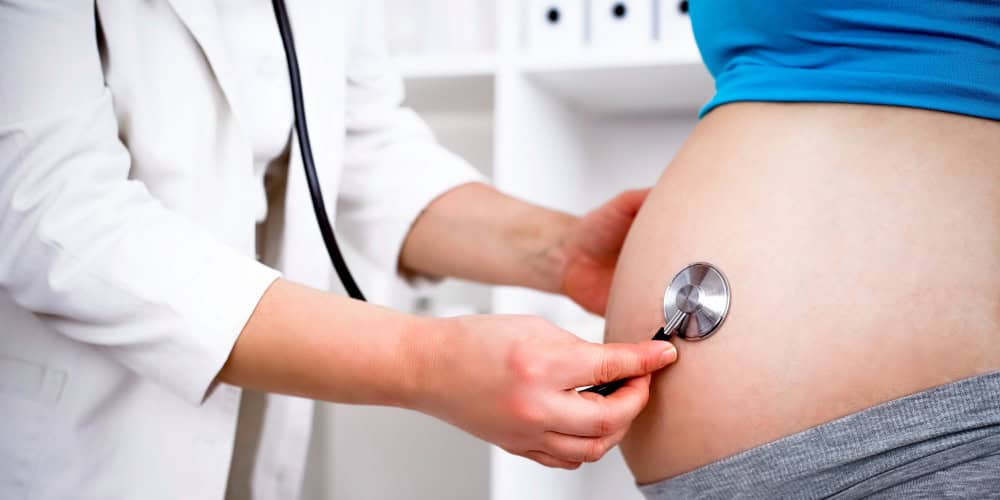 What is the difference between a Maternal-Fetal Medicine specialist and an OB/GYN?
A maternal-fetal medicine specialist receives traditional gynecology and obstetrics training. In addition, they take an extra three years of education on improving pregnancy outcomes. Perinatologists also receive extensive training in how to interpret fetal ultrasound results.
What is a high-risk pregnancy?
Many things can make a pregnancy high risk. Generally, a pregnancy is high risk if a condition puts the mother, fetus, or both at a higher risk for complications.
A patient carrying a high-risk pregnancy needs closer monitoring than the average pregnant person. Such monitoring may include more frequent visits with the primary caregiver, tests to monitor medical problems and mental health, blood tests to check medication levels, and fetal monitoring. Fetal monitoring may include amniocentesis, more frequent ultrasounds, or a fetal biophysical profile.
Common causes of high-risk pregnancy
Just because a woman has one of these medical disorders in pregnancy does not necessarily mean she will have a high-risk pregnancy. However, it is recommended that these women see a maternal-fetal medicine specialist.
Diabetes
Expectant mothers already diagnosed with diabetes are referred to a maternal-fetal medicine specialist to monitor their condition and determine proper medications. Gestational diabetes – diabetes which occurs during pregnancy – is also monitored by a maternal-fetal specialist.
Pre-eclampsia
Pre-eclampsia is a condition that only occurs during pregnancy. Symptoms include persistent high blood pressure, edema (swelling), and traces of protein in the urine. The only "cure" for this condition is giving birth. It is crucial to be closely monitored by a maternal-fetal medicine specialist during pregnancy.
Multiple gestation
Patients expecting twins or higher multiples have an increased risk of complications, such as pre-eclampsia or early labor.
Sexually transmitted diseases (STDs)
While your obstetrician can treat you for sexually transmitted diseases that occur during pregnancy, those with existing STDs should receive the care of a maternal-fetal medicine specialist. Because of complicated medication regimes, a specialist should always treat pregnant women with HIV or other infectious diseases.
Obesity
Obese women have a greater chance of complications during pregnancy. Possible complications of obesity include diabetes, hypertension, and pre-eclampsia. Overweight women are encouraged to shed weight before becoming pregnant.
Heart disease
Being pregnant with heart disease increases the stress on your heart and circulatory system. Fun fact: blood volume increases by as much as 50% to nourish a growing baby. Labor and delivery also put extra stress on your heart.
Will all my pregnancies be high risk?
Just because you have a high-risk pregnancy does not necessarily mean you will have complications if you conceive again. Health conditions can change over time and become less meaningful.
However, if you deliver your baby prematurely, you will still be at risk for another preterm birth or a baby with low birth weight. In this instance, your maternal-fetal medicine specialist will monitor your cervical length with ultrasound images during subsequent pregnancies.
What are the benefits of pre-conception care?
Many expectant parents prefer to rule out potential genetic abnormalities, so they visit a maternal-fetal medicine specialist before they become pregnant for genetic testing. The California Department of Public Health also supports the importance of preconception or prenatal (before birth) testing for genetic disease screening.
Pre-conception carrier screening is a blood test identifying certain genetic disorders that may complicate a pregnancy. Screening can determine if you have a condition even though you may not show any symptoms.
Genetic testing before conceiving gives parents sufficient knowledge to make informed decisions on becoming pregnant or pursuing parenthood differently.
While genetic screening can identify up to 100 congenital abnormalities, common results include:
Cystic fibrosis
Fragile X syndrome
Sickle cell disease (African Americans at much higher risk)
Tay-Sachs disease
Huntington's disease
Spinal muscular atrophy
Thalassemia and hemoglobinopathies (red blood cell disorders)
Why choose Dr. Steve Rad and the Los Angeles Fetal and Maternal Care Center?
Did you know that all pregnancies in the United States are at risk of becoming high-risk? Even a pregnancy that begins "low-risk" can become high-risk. That is no secret to double-board certified Dr. Steve Rad, an Obstetrician-Gynecologist with sub-specialty training in Maternal-Fetal Medicine / Perinatology.
Dr. Rad has been named a top Maternal-Fetal Medicine specialist in Los Angeles by Los Angeles Magazine for six years in a row.
Dr. Rad has undergone rigorous training with high honors at renowned institutions including the Department of Obstetrics and Gynecology at David Geffen School of Medicine at UCLA, USC, Cedars-Sinai Medical Center, and UCSF Medical Center, as well as centers internationally in London, Austria, Israel, and Africa.
Dr. Rad is passionate about obstetrics and gynecology while using his proficiency to guide high-risk mothers with prenatal testing, special monitoring, and diligent care during their pregnancy up to and including the birth of their baby.
Call us at (844) 473-6100 or schedule your consultation online. We are currently accepting new patients.
We are conveniently located for patients throughout Southern California and the Los Angeles area at locations in or near Beverly Hills, Santa Monica, West Los Angeles, West Hollywood, Culver City, Hollywood, Venice, Marina del Rey, Malibu, Manhattan Beach, Newport Beach, Irvine, and Downtown Los Angeles. We also offer in-home prenatal care and a fly-in program for out-of-town and international patients. Dr. Rad even travels to patients who need him throughout the U.S. and around the world.
If you can't make it to Dr. Rad, he also offers virtual consultations worldwide.