One of Los Angeles's premiere high-risk pregnancy and maternal-fetal medicine physician
Dr. Rad is a renowned OB/GYN specializing in perinatology, high-risk pregnancies, and maternal-fetal medicine. He was selected by his peers as one of Los Angeles' Best Maternal/Fetal specialists in LA Magazine six years in a row — as well as a Southern California Rising Star for the last four.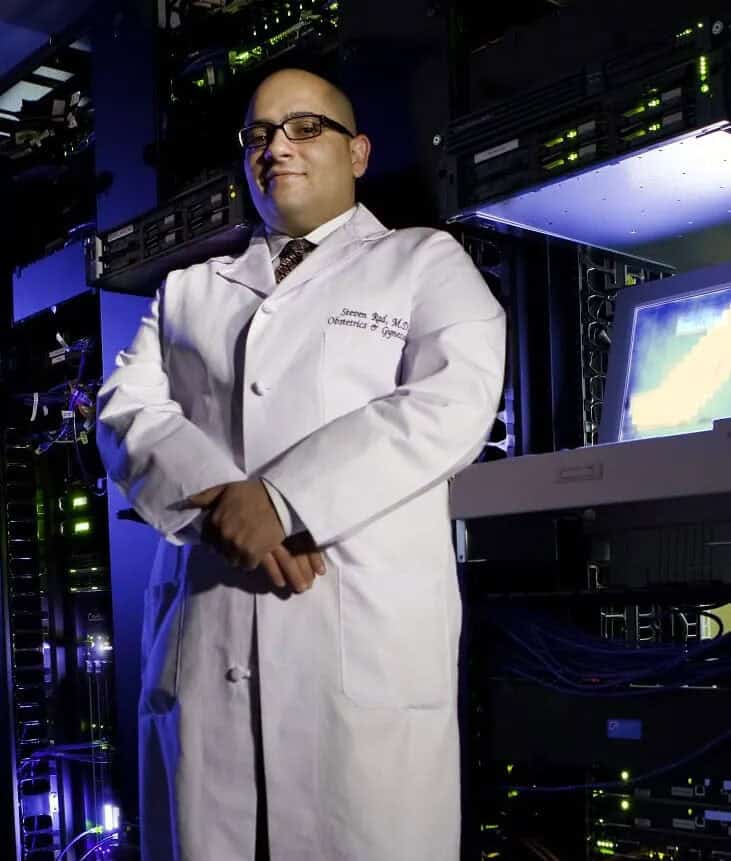 Dr. Steve Rad's education and training
Dr. Rad's medical training began at the David Geffen School of Medicine at UCLA and Drew Medical Education Program, where he graduated with honors. He did both his OB/GYN internship and residency training at Cedars-Sinai Medical Center. He was also invited to remain to complete a Fellowship in Maternal-Fetal Medicine.
In 2016, Dr. Rad founded his private practice, where he currently serves as Medical Director.
Giving back to his profession
Dr. Rad believes in the importance of helping to foster new generations of OB/GYNs, maternal-fetal specialists, and perinatal sonographers. He previously served as a clinical instructor and assistant professor of OB/GYN and Maternal-Fetal Medicine at UCLA and UCSF Medical Centers. Dr. Rad has been regaled for his teaching excellence at both UCSF and Cedars Sinai. Dr. Rad is currently in the teaching service at UCLA Santa Monica and Cedars Sinai Medical Centers. He is the founder and director of the Dr. Steve Rad Ultrasound Academy for OB/GYN and Maternal-Fetal Medicine.
In-office and in-home technology like no other
Dr. Rad employs the latest cutting-edge 3D and 4D High-Definition ultrasound technology from GE available few places in the world. Dr. Rad and his team have expertise in performing and interpreting Early Fetal Scans and Echocardiograms that facilitate the diagnosis of fetal abnormalities as early as 11 to 16 weeks of gestation. Dr. Rad has undergone extensive training in fetal echocardiography, sonography, and interpretation of early fetal scans under the auspices of the world's leading specialists in the United Kingdom, Austria, Israel, and the United States.
Dr. Rad's first-hand experience with high-risk pregnancies
Dr. Rad and his lovely wife, Nina, have three children and all three were high-risk pregnancies.
Nina had premature twin baby girls in April 2020 after spending days in the Cedars-Sinai Maternal-Fetal Antepartum Care Unit at the height of the COVID pandemic.
Lola and Leilani were born prematurely at 31 weeks due to premature rupture of membranes and fetal intrauterine growth restriction, and barely weighed 2 pounds each! They spent over two months in the Cedars-Sinai neonatal ICU. Both children, fortunately, did great in the NICU and are thriving now.
Dr. Rad's third child, Isaac — another COVID baby — was born May 2021 at just 37 weeks gestation. He was also a high-risk pregnancy due to fetal intrauterine growth restriction.
As a result, Dr. Rad has first-hand experience of what a high-risk pregnancy and NICU stay entails. This experience has only made his ability to both empathize and commiserate with his patients better.
Dr. Rad's certifications and hospital privileges
Dr. Rad is certified by the American Board of Obstetrics and Gynecology and certified as a Nuchal Translucency Quality Review Provider for California's Prenatal Screening Program. He speaks conversational Spanish and enjoys hospital privileges at the following institutions: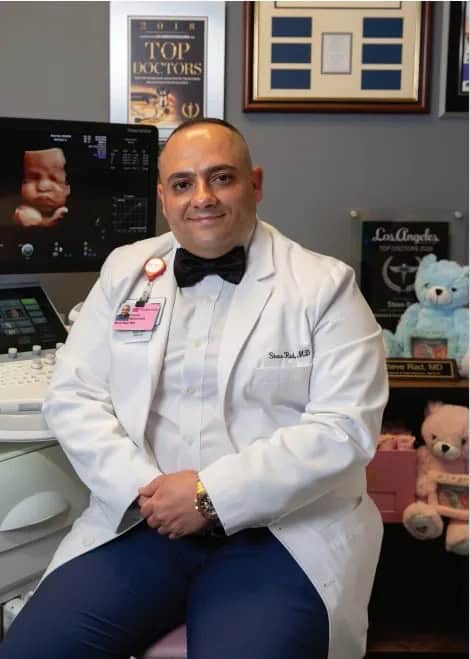 UCLA Santa Monica Medical Center
Cedars-Sinai Medical Center
Providence St. Johns Health Center, Santa Monica
Providence Cedars-Sinai Tarzana Medical Center
Good Samaritan/PIH Hospital, Los Angeles
California Hospital Medical Center
When Dr. Rad is not working, he enjoys biking, swimming, classic cars, and practicing his culinary skills with his wife and children. And, for the most part, they seem to enjoy his cooking, thank goodness!
Why choose Dr. Steve Rad and the Los Angeles Fetal and Maternal Care Center?
Did you know that all pregnancies in the United States are at risk of becoming high-risk? Even a pregnancy that begins "low-risk" can become high-risk.
That is no secret to double-board certified Dr. Steve Rad, an Obstetrician-Gynecologist with sub-specialty training in Maternal-Fetal Medicine / Perinatology.
Dr. Rad has been named a top Maternal-Fetal Medicine specialist in Los Angeles by Los Angeles Magazine for six years in a row.
We are conveniently located for patients throughout Southern California and the Los Angeles area at locations in or near Beverly Hills, Santa Monica, West Los Angeles, West Hollywood, Culver City, Hollywood, Venice, Marina del Rey, Malibu, Manhattan Beach, Newport Beach, Irvine, and Downtown Los Angeles. We also offer in-home prenatal care and a fly-in program for out-of-town and international patients. Dr. Rad even travels to patients who need him throughout the U.S. and around the world.
If you can't make it to Dr. Rad, he also offers virtual consultations worldwide.
High-risk obstetrics testing and conditions treated include:
Amniocentesis
High blood pressure
Gestational diabetes
Infertility
Miscarriages
Preeclampsia
Pregnancy loss
Birth defects
Gentle C-section
Chorionic villus sampling (CVS)
Diagnostic testing
Down syndrome
Hypertension
Kidney disease
Prenatal testing
Placenta issues
Preconception counseling
Preterm labor
Multiple Birth (twins and triplets)
And more
Call us at (844) 473-6100 or schedule your consultation online. We are currently accepting new patients.
Cedars-Sinai Medical Office Tower – East
8631 W 3rd St
Suite 600-C
Los Angeles, CA 90048