What is amniocentesis?
Amniocentesis is one of the two main prenatal diagnostic tests to assess risks, problems, or genetic disorders in the fetus. The other main diagnostic test is Chorionic Villus Sampling (CVS). These tests are both karyotype tests — tests that analyze chromosomes.
Amniocentesis uses an ultrasound transducer to show the baby's position inside the uterus; the doctor then uses a needle to withdraw a sample of the amniotic fluid surrounding the baby. Fetal cells are extracted from this fluid and examined.
Before your test, Dr. Rad will perform an ultrasound to accurately determine the baby's gestational age.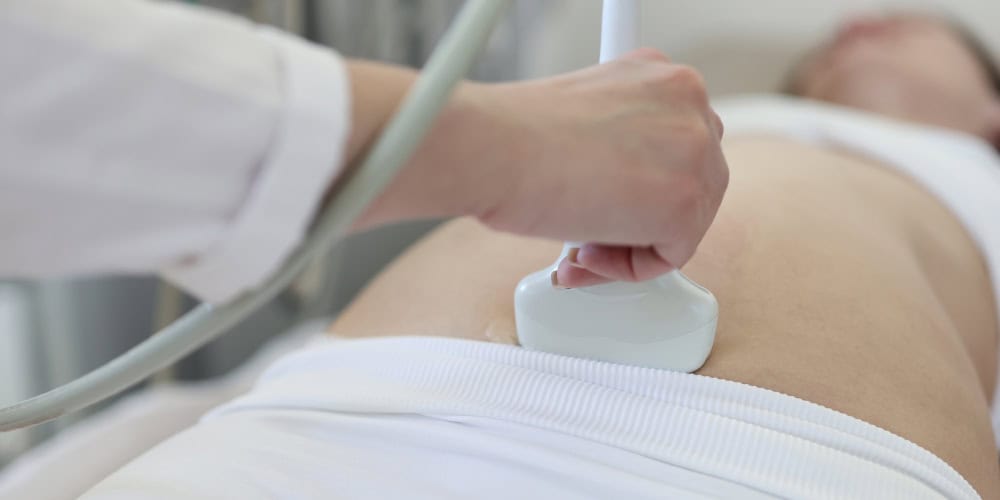 What does amniocentesis test for?
I am often asked what amniocentesis tests for as well as when to perform amniocentesis testing. There are several times during a pregnancy that amniocentesis can be performed depending on what we're checking for.
Sometimes, expectant parents like to get information during the first trimester (11-14 weeks of gestation) and receive information on the baby's genetic makeup. This test can helps determine if your pregnancy is high-risk.
When performed between the 15th and 20th weeks of pregnancy, the test usually works in conjunction with other procedures to identify a potentially high-risk pregnancy. Dr. Rad may recommend one of the following tests along with your amniocentesis:
Fetal lung test. This determines if the baby's lungs have developed enough for birth.
Diagnosis of fetal infection. This evaluates the baby for infection or other illnesses.
Genetic testing. The fetus's chromosomes are examined to check for genetic conditions, such as Down Syndrome.
When to perform an amniocentesis?
Broadly, the test is performed on women who may be at risk for birth defects, or as a follow-up to an earlier test that signals there may be a problem.
Potential high-risk pregnancies may include:
What happens during amniocentesis testing?
The test usually takes place in a doctor's office, but, if we suspect the mother may have complications, the procedure can take place in a hospital.
An ultrasound is first used to examine the baby's heart rate and the position of the placenta, fetus, and umbilical cord.
After that, I inject a little numbing medicine into the mother's abdomen. Once numb, I first insert a speculum and then guide a very thin needle into the uterus and amniotic sac with the help of ultrasound guidance.
After taking about an ounce of fluid, I simply remove the needle and put the fluid in a sterile, light-protected container. This is sent to the lab to measure the baby's protein levels; test results can indicate a certain issue or — best of all — no issues.
Amniocentesis vs CVS: is one test better than the other?
The main benefit of CVS is that it can be done earlier in the pregnancy. It's very accurate in detecting genetic abnormalities, but it does not detect some things that amniocentesis does. These include:
Amniocentesis might be the best option if:
Amniocentesis complications and risks
Though usually uneventful, the risks of amniocentesis are very small. These include:
Amniotic fluid leak. This typically rectifies itself within a week.
Risk of miscarriage. Fewer than .03% of tests performed in the second trimester result in miscarriage. The rate is higher when amniocentesis is performed before the second trimester.
Needle injury. If the baby moves during the test, they may get nicked by the needle. This is very rare.
Rh sensitization. The baby's blood cells may enter the mother's bloodstream. An injection of Rh immune globulin rectifies this situation.
Infection. This is quite uncommon, but the test can trigger a uterine infection.
Mild cramping and vaginal bleeding.
Why choose Dr. Steve Rad and the Los Angeles Fetal and Maternal Care Center?
Did you know that all pregnancies in the United States are at risk of becoming high-risk? Even a pregnancy that begins "low-risk" can become high-risk. That is no secret to double-board certified Dr. Steve Rad, an Obstetrician-Gynecologist with sub-specialty training in Maternal-Fetal Medicine / Perinatology.
Dr. Rad has been named a top doctor and Maternal-Fetal Medicine specialist in Los Angeles by LA Magazine for six years in a row.
Dr. Rad has undergone rigorous training with high honors at renowned institutions including the Department of Obstetrics and Gynecology at David Geffen School of Medicine at UCLA, USC, Cedars-Sinai Medical Center, and UCSF Medical Center, as well as centers internationally in London, Austria, Israel, and Africa.
Dr. Rad is passionate about obstetrics and gynecology and uses his proficiency to guide high-risk mothers with prenatal testing, special monitoring, and diligent care during their pregnancy – up to and including delivery.

Dr. Rad and his OB/GYN team understand your information needs before, during, and after birth. We help you understand your pregnancy, answer all your questions, and provide the emotional support and means to safely navigate your pregnancy.
Call us at (844) 473-6100 or schedule your consultation online. We are currently accepting new patients.
We are conveniently located for patients throughout Southern California and the Los Angeles area at locations in or near Beverly Hills, Santa Monica, West Los Angeles, West Hollywood, Culver City, Hollywood, Venice, Marina del Rey, Malibu, Manhattan Beach, Newport Beach, Irvine, and Downtown Los Angeles. We also offer in-home prenatal care and a fly-in program for out-of-town and international patients. Dr. Rad even travels to patients who need him throughout the U.S. and around the world.
If you can't make it to Dr. Rad, he also offers virtual consultations worldwide.