What is a fetal biophysical profile?
The fetal biophysical profile (BPP) is a test given to high-risk pregnant women during the third trimester of pregnancy (after 28 weeks gestation). This antepartum fetal evaluation combines the test results of a non-stress test (NST) and a fetal ultrasound to generate a biophysical profile score. Results outside of normal are not cause for emergency or worry. If the score is not high enough, the doctor will likely rerun the test within 24 hours.
The biophysical profile estimates perinatal outcomes by looking at five areas of development: the baby's heart rate, body movements, muscle tone, breathing movements, and amniotic fluid volume.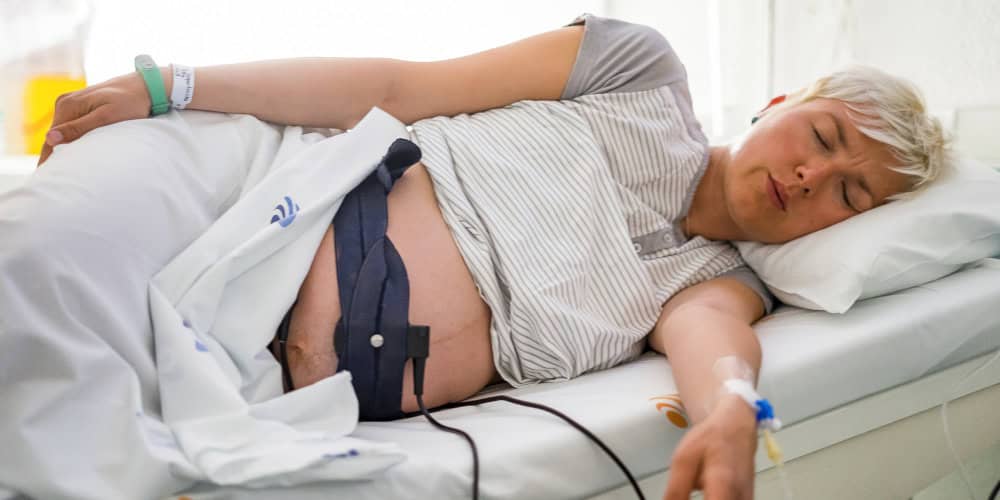 If there is a chance that your baby may have problems during your pregnancy, a BPP may be done by 32 to 34 weeks gestational age. Some women with high-risk pregnancies may have a BPP test every week or twice a week during the third trimester.
Understanding the intricacies of this test begins with your high-risk pregnancy specialist. Patients in the Los Angeles area seek the expert counsel of Dr. Steve Rad, a double-board certified Obstetrician-Gynecologist with sub-specialty training in Maternal-Fetal Medicine (MFM).
Dr. Rad advises expectant mothers to remain vigilant about their conditions. Low-risk pregnancies can quickly escalate to fetal health emergencies and perinatal mortality.
Dr. Rad and his team at the Los Angeles Fetal and Maternal Care Center have decades of perinatology experience; they are among the very best high-risk pregnancy specialists in Los Angeles. The team is also available to provide expert second opinions concerning potential defects in the fetus.
The biophysical profile test
Doctors use the BPP to avoid pregnancy loss and uncover a low oxygen supply in the baby early enough to have a safe delivery without sustaining any permanent damage.
Your doctor may suggest a biophysical profile if you are:
Overweight
Over the age of 35
Carrying a multiple pregnancy (twins, triplets, etc.) with specific complications
Suffering from a chronic condition such as diabetes, high blood pressure, preeclampsia, lupus, or heart disease
Past your due date
A biophysical profile may also be recommended if:
The mother has a history of pregnancy loss or birthing complications.
The baby's movements have decreased or not grown.
The amniotic fluid index is too much (polyhydramnios) or too little (oligohydramnios).
The mother's blood type is negative, while the baby's is positive.
What is a non-stress test in pregnancy?
This safe, non-invasive test is performed using sensors wrapped around the pregnant patient's belly. The test includes fetal heart rate monitoring as well as a contraction test.
Biophysical profile score
The biophysical score is how doctors make sense of the procedure's results. There are five components in the test — each one worth two points; a 10 would, therefore, be a perfect score.
Biophysical score components
Fetal breathing movements
Normal (2 points) – One or more episodes of fetal breathing lasting at least 30 seconds within 30 minutes.
Abnormal (0 points) – No fetal breathing movements lasting at least 30 seconds in 30 minutes.
Gross body movement
Normal (2 points) – Three or more body or limb accelerations within 30 minutes.
Abnormal (0 points) – Less than three body movements in 30 minutes.
Fetal tone
Normal (2 points) – One or more episodes of active extension or opening and closing the hand.
Abnormal (0 points) – Slow extension and flexion of extremity or no fetal movement.
Amniotic fluid
Normal (2 points) – Should have more than 2 centimeters of fluid.
Abnormal (0 points) – Fluid volume is less than 2 centimeters.
Non-stress test
Normal (2 points) – A reactive non-stress result indicates that blood flow (and oxygen) to the fetus is adequate.
Abnormal (0 points) – Fetus not getting sufficient blood and oxygen. More testing is required.
Biophysical profile test score results
A total score of at least eight is considered normal. A score of less than eight indicates that the baby may not be getting sufficient oxygen.
If the biophysical profile score is four or less, delivery is induced because there is a risk of stillbirth or fetal asphyxia.
Modified biophysical profile
Often, if the baby is getting sufficient oxygen and the amniotic fluid volume is within the acceptable range, alternate antepartum fetal surveillance can be performed. The doctor will perform a modified biophysical profile; this test consists of a non-stress test and a measure of amniotic fluid.
The modified biophysical profile (MPP) may be performed because of decreased fetal movement. If the NST is nonreactive or the amniotic fluid volume is low a full biophysical profile is usually done.
More about Dr. Rad
Perinatologist Dr. Rad and his world-class Maternal-Fetal Medicine (MFM) obstetrics and gynecology team at Los Angeles Fetal and Maternal Care understand your High-Risk OB and infertility needs before, during, and after birth. We provide compassionate care and help you understand your pregnancy, answer questions, and provide emotional support to safely navigate your pregnancy.
Dr. Rad has undergone rigorous pediatric training with high honors at prestigious renowned institutions- David Geffen School of Medicine at UCLA, USC, Cedars-Sinai Medical Center, UCSF Medical Center as well as centers internationally including in London, Austria, Israel, and Africa.
Call us at (844) 473-6100 or schedule your consultation online. We are currently accepting new patients.
We are conveniently located for patients throughout Southern California and the Los Angeles area at locations in or near Beverly Hills, Santa Monica, West Los Angeles, West Hollywood, Culver City, Hollywood, Venice, Marina del Rey, Malibu, Manhattan Beach, Newport Beach, Irvine, and Downtown Los Angeles. We also offer in-home prenatal care and a fly-in program for out-of-town and international patients. Dr. Rad even travels to patients who need him throughout the U.S. and around the world.
If you can't make it to Dr. Rad, he also offers virtual consultations worldwide.
Call (844) 473-6100 or click here to schedule online