Motherhood is beautiful. It's also necessary for the continuation of human life on earth. That's why it's a good thing that most pregnancies proceed smoothly and predictably, albeit with some inevitable moments of stress during delivery itself.
But many pregnancies do not proceed smoothly and predictably. They get complicated and unpredictable, and they require expert medical attention. These are known as high-risk pregnancies, and high-risk pregnancies are undergoing an alarming growth rate.
What is a high-risk pregnancy?
"High-risk pregnancy" is a term that can refer to various conditions. Many of these conditions are related to pre-existing conditions that the mother-to-be incurred before becoming pregnant. Other conditions that qualify as high-risk develop during the pregnancy or first manifest during the delivery.
A high-risk pregnancy will usually resolve successfully, culminating with the birth of a healthy infant. But to achieve that happy result, a significantly higher level of specialized monitoring and expert healthcare will be required.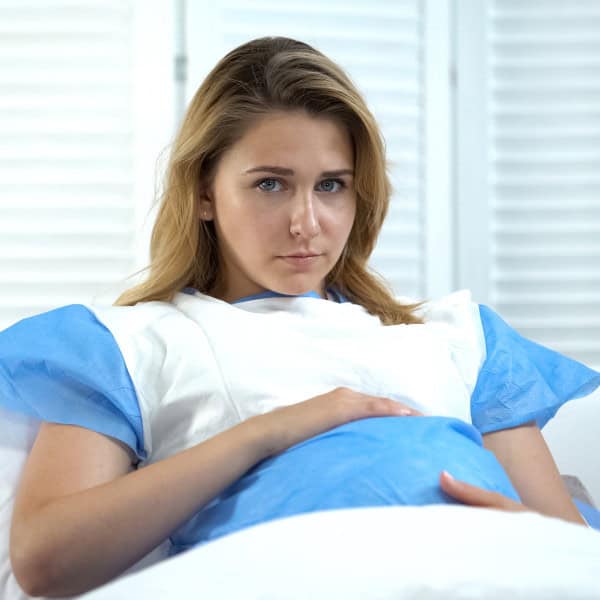 What is the medical definition of a high-risk pregnancy?
The National Institute of Child Health and Human Development (NICHD) defines a high-risk pregnancy as threatening the health or life of the mother or fetus. Some pregnancies become high risk as they progress, while other patients are at increased risk for complications even before getting pregnant.
What medical conditions are linked to a risk of complications in pregnancy?
Risk factors for high-risk pregnancies can include:
Pre-existing health conditions, such as high blood pressure, kidney disease, or diabetes.
Obesity is often the initial link in a chain of conditions that leads to a high-risk pregnancy. This is because obesity increases the risks of high blood pressure, preeclampsia, gestational diabetes, stillbirth, neural tube defects, and the need for cesarean delivery. NICHD researchers have found that a mother's obesity can raise an infant's risk of heart problems at birth by 15%.
Maternal age. Mothers under 17 or over 35 are at increased risk of a high-risk pregnancy.
Behavioral health problems incurred before conception, such as smoking, drinking alcohol to excess, use of illegal drugs or misuse of legal drugs, anxiety, sexually transmitted diseases (STDs), and major depression, are also linked to high-risk pregnancies.
Difficulties encountered during a previous pregnancy.
Multiple fetuses, i.e., twins or triplets.
Are high-risk pregnancies increasing?
Blue Cross/Blue Shield recently released a report based on the study of 1.8 million pregnancies between 2014 and 2018 among patients aged 18 to 44.
Between 2014 and 2018, the pregnancy rate for those aged 18-25 declined by 12%, while the pregnancy rate for those aged 35-44 increased by 9%.
The key findings of the report showed:
A greater number of people are entering pregnancy with pre-existing conditions.
The number of patients experiencing both pregnancy complications and childbirth complications increased by 31.5%
Those with pregnancy complications are twice as likely to have complications at birth.
The number of pregnant people diagnosed with postpartum depression increased by nearly 30%.
Chronic conditions have become more prevalent before pregnancy. Pre-conception hypertension (high blood pressure), type 2 diabetes, and obesity diagnosed before pregnancy increased between 2014 and 2018.
Complications that first arise during pregnancy also increased at an alarming rate. Preeclampsia rose by 19%, while gestational diabetes increased by 16.6% during that same time frame.
Childbirth complications were even more elevated. With eclampsia, cardiomyopathy, embolism, sepsis, and respiratory distress rise by about 30 – 60%. The only condition whose incidence decreased was the need for a transfusion.
How are women and fetuses with a higher risk of issues treated?
Perinatology is the field of medicine focused on monitoring and remedying high-risk pregnancies. Another term for the same subspecialty is maternal-fetal medicine. No matter the title, a perinatologist or maternal-fetal medicine (MFM) specialist is among the most thoroughly educated and highly skilled healthcare providers. Maternal-fetal medicine physicians are also board-certified by the American Board of Obstetrics and Gynecology.
What is a maternal-fetal specialist?
A maternal-fetal medicine specialist is an OB/GYN physician who has completed an additional three years of education and training. MFM specialists are high-risk pregnancy experts working to keep pregnant patients as healthy as possible while their body changes and their baby grows. Perinatologists also care for patients who face unexpected problems that develop during pregnancy — such as preterm labor, bleeding, or high blood pressure.
In other cases, it's the baby who's in crisis. If we find congenital disabilities or growth problems in utero, we can start treatment before birth and provide monitoring, blood transfusions, and surgery to support babies until they are ready to arrive in the world.
How can I avoid a high-risk pregnancy?
That's a great question and often isn't asked early enough.
Why choose Dr. Steve Rad and the Los Angeles Fetal and Maternal Care?
Did you know that all pregnancies in the United States are at risk of becoming high-risk? Even a pregnancy that begins "low-risk" can become high-risk. That is no secret to double-board certified Dr. Steve Rad, an Obstetrician-Gynecologist with sub-specialty training in Maternal-Fetal Medicine / Perinatology.
Dr. Rad has been named a top doctor and Maternal-Fetal Medicine specialist in Los Angeles by LA Magazine for six years in a row.
Dr. Rad is passionate about obstetrics and gynecology while using his proficiency to guide high-risk mothers with prenatal testing, special monitoring, and diligent care during their pregnancy – up to and including the birth of their baby.
Dr. Rad uses state-of-the-art 3D and 4D high-definition ultrasound technology. They are one of the only practices in Los Angeles that use early fetal anatomy scans and echocardiograms to identify and diagnose fetal abnormalities between 11 and 16 weeks.
We are currently accepting new patients. Call us at (844) 473-6100 or schedule your consultation online.
We are conveniently located for patients throughout Southern California and the Los Angeles area at locations in or near Beverly Hills, Santa Monica, West Los Angeles, West Hollywood, Culver City, Hollywood, Venice, Marina del Rey, Malibu, Manhattan Beach, Newport Beach, Irvine, and Downtown Los Angeles. We also offer in-home prenatal care and a fly-in program for out-of-town and international patients. Dr. Rad even travels to patients who need him throughout the U.S. and around the world.
If you can't make it to Dr. Rad, he also offers virtual consultations worldwide.