We're excited to welcome you to Dr. Steve Rad's revamped website and new blog!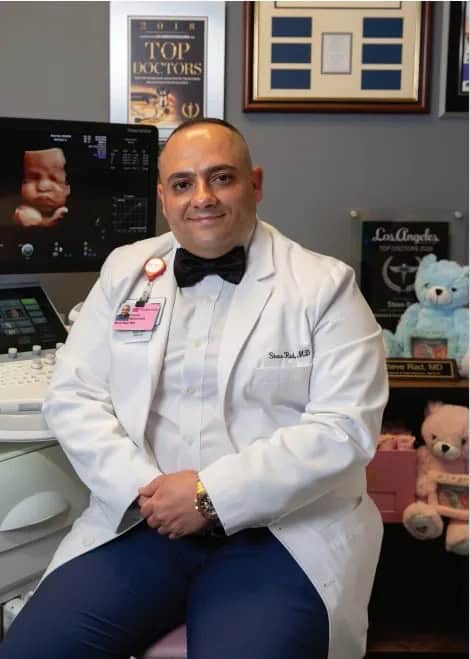 While the website might be different, the care and commitment we bring to patients will never change. The Los Angeles Maternal Fetal Care Center team is 100% committed to helping parents-to-be navigate their high-risk pregnancy and ensure healthy pregnancy outcomes.
We also go above and beyond to provide premier patient care offering a 24/7 phone and text line; in-office, telehealth, and home visits; a fly-in program; and concierge VIP care. Our clinic employs the latest 3D and 4D High Definition ultrasound technology as well as cutting-edge early fetal scans and echocardiograms — able to diagnose fetal abnormalities between 11-16 weeks of gestational age.
Whether this is your first pregnancy or your tenth, you deserve top-of-the-line, personalized care. That's why we offer:
Our Blog
In addition, we have this new blog to share the latest news in obstetrics and gynecology as well as answer commonly asked questions! Learn more about high-risk pregnancies, why Americans struggle to access fertility treatment, and look out for future posts on advanced fetal ultrasounds and the risks of home birth.
We're excited about this new opportunity to share information with you! Visit our blog now.
Why choose Dr. Rad and Los Angeles Maternal & Fetal Care?
Did you know that all pregnancies in the United States are at risk of becoming high-risk? Even a pregnancy that begins "low-risk" can become high-risk.
Expectant mothers in Los Angeles turn to double-board certified Dr. Steve Rad, an OB/GYN with sub-specialty training in Maternal-Fetal Medicine / Perinatology.
Call us at (844) 473-6100 or schedule your consultation online. We are currently accepting new patients.
We are conveniently located for patients throughout Southern California and the Los Angeles area at locations in or near Beverly Hills, Santa Monica, West Los Angeles, West Hollywood, Culver City, Hollywood, Venice, Marina del Rey, Malibu, Manhattan Beach, Newport Beach, Irvine, and Downtown Los Angeles. We also offer in-home prenatal care and a fly-in program for out-of-town and international patients. Dr. Rad even travels to patients who need him throughout the U.S. and around the world.
If you can't make it to Dr. Rad, he also offers virtual consultations worldwide.